The most powerful
Vehicle Monitoring System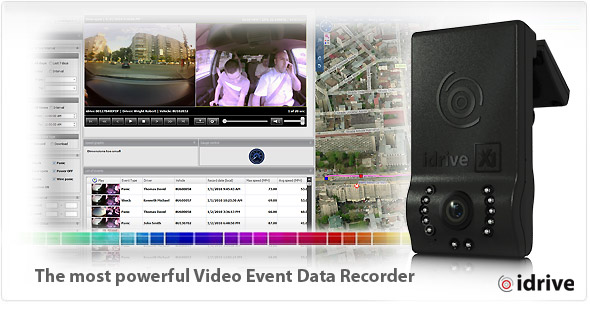 idrive is a Professional Event Data Recorder system for vehicles which can capture high definition videos, both of the front of the vehicle and the rear, using a dual camera device and records when an event occurs, including: accidents, aggressive driving behavior, door open event or panic (after pressing the specially designed panic button).

The videos are stored on internal memory together with other information like G-force values, GPS coordinates, date, time and more, all collected from the device. The transfer to the Base Station or to a specific network is made using wireless or USB. The idrive dual camera device is designed to be mounted to the windshield, behind the rear view mirror.

The system is managed by simple, intuitive and powerful software that includes a Transfer Application for communication between the idrive dual camera device and the computer using WiFi or USB, a database manager for videos and a Player that synchronize the videos. The player allows the user to zoom, pan, advance frame by frame, expand video full size, view as full screen and save frame as an image. Also no unauthorized user can access the software without a username and a password.